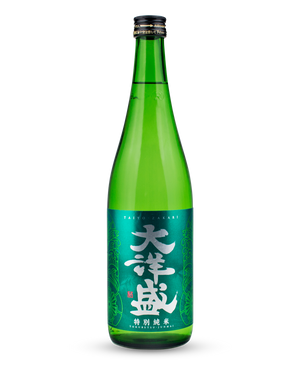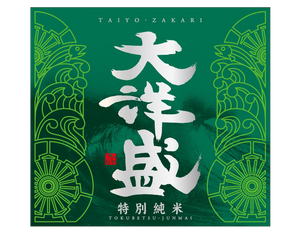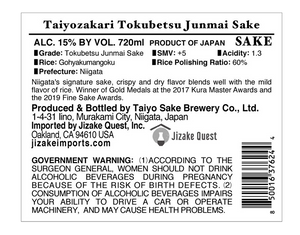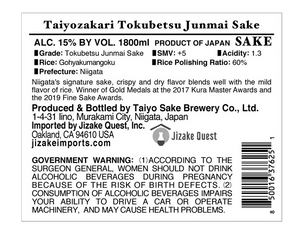 Taiyozakari Tokubetsu Junmai
This sake won Gold Medals at the 2019 Fine Sake Awards as well as the 2017 Kura Master in France.  An excellent example of Niigata style, crispy and dry flavors with refreshing acidity works well with many foods and can excel either chilled or warm as kanzake.
Grade: Tokubetsu Junmai

ABV: 15%

Prefecture: Niigata

Rice: Gohyakumangoku

SMV: +5

Sizes Available: 720ml, 1800ml

Milling: 60%

Acidity: 1.3


Taiyo Sake Brewery
Taiyo Sake Brewery is located in Murakami City in the northern part of Niigata. Murakami is an old castle town and a place of scenic beauty throughout the year. Taiyo Shuzo was awarded the Gold Medal ten times at the most highly-regarded sake competition in Japan, the National New Sake Awards.
Learn more about Taiyo Sake Brewery