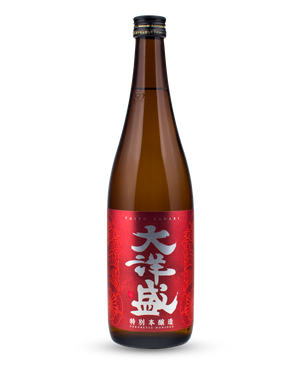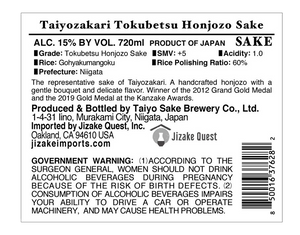 Taiyozakari Tokubetsu Honjozo
The representative sake of Taiyozakari.  A handcrafted honjozo with a gentle bouquet and a delicate clear and dry taste.  This sake won the Grand Gold Medal at the 2012 Kanzake Awards and a Gold Medal at the 2019 Kanzake Awards.  An excellent choice for a warm sake on a chilly winter day.
Grade: Tokubetsu Honjozo

ABV: 15%

Prefecture: Niigata

Rice: Gohyakumangoku

SMV: +5

Sizes Available: 720ml

Milling: 60%

Acidity: 1.0


Taiyo Sake Brewery
Taiyo Sake Brewery is located in Murakami City in the northern part of Niigata. Murakami is an old castle town and a place of scenic beauty throughout the year. Taiyo Shuzo was awarded the Gold Medal ten times at the most highly-regarded sake competition in Japan, the National New Sake Awards.
Learn more about Taiyo Sake Brewery